Quality Control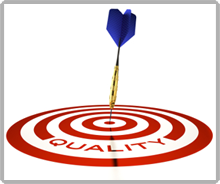 MATERIAL:
The raw material procured is form the established and reputed manufacture. Preference is given to M/s Powmex steel limited who has collaboration with Boehler steels renounced name in special steel manufacturing required for manufacturing of cutting tools.

MATERIAL IDENTIFICATION:
Each bars of raw material is given a code number on the length for the identification and the Erecords are maintained.

FIFO SYSTEM:
The raw material is consumed on FIFO system. First come First Out. The inventories are maintained for two month requirement.

CALIBRATION:
The calibration of measuring and testing equipment is undertaken as per defined and established Quality management system at the defined interval.

ONLINE INSPECTION:
Each tool under manufacturing process, as per drawings approved by customers and specifications is inspected during the process for visual and parameter inspection.

MAINTENANCE OF QUALITY RECORDS:
Each tool manufactured is given unique Identification number. The in process quality inspection and final Inspection records with specific Drg. Number of the tool are maintained. These records are maintained and are easily traceable for future reference. The maintenance of the quality record is under taken as per procedure defined in QMS ISO 9000:2008.
Product Range